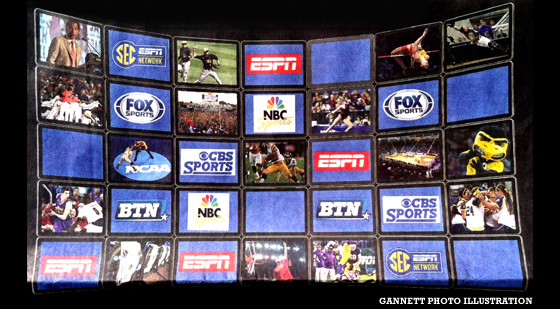 Attribution and All Photo Credits: Gannett Corporation
More on ESPN's Woes Due To Cable Unbundling: Andrew Logue's August 12, 2015 Des Moines Register Piece, "Cable unbundling makes college power brokers uneasy".
ESPN Still Widely Watched & Loved
Like tens or even hundreds of millions of viewers in this country and around the world, I love ESPN and always have. The network has covered historic games and matches; has uncovered countless numbers of stories, athletes and teams around the country since the early 1980s; and has driven greater sports media from other providers, while introducing us to great American sports communities like no media before.
Ways of Watching ESPN Evolving
ESPN came to us only through cable television for its first 25 years or so, but with the advent of web streaming for at least a decade, viewers have subscribed to EPSN's wide variety of sports web channels, or have simply put up with cable costs sometimes five times the cost to subscribe to widening digital ESPN and many other web streaming choices, what the industry calls "over the top" services, like Netflix, Hulu and HBO.
Why Is ESPN So Important?
As viewers flocked to ESPN over the years, cable companies used the very popular ESPN as a battering ram to gain and retain viewers to continue paying the cable monster.  Cable companies — awash for decades in subscriber money while still enjoying revenues from commercials, which subscribers are forced to watch, although we already pay for cable! — provided some other popular content (examples include Comedy Central, Disney and Fox channels among them). But beyond these rare good channels, the rest have been what many Americans might politely describe as crap. Thus, the flood to find cheaper and better web streaming alternatives.
Current Cable Unbundling Trends Put ESPN At Risk
ESPN has reportedly lost more than three million cable subscribers in a little over a year, and its parent company Disney has demanded deep cuts into ESPN's budget for 2016 and 2017.  Current web streaming is gutting the cable industry, the same industry that brought ESPN to all of us many years ago. And given ever-widening digital alternatives, no signs indicate this trend will change.
Greg Goaley, President of WinCommunications in Des Moines, Iowa, is a former copywriter and creative editor, and a 25-year digital content strategist and provider. Kathryn Towner is President of WinM@il USA, a former 15-year sales rep for Random House/McGraw-Hill, and a 20-year permission-based email publications consultant and provider.