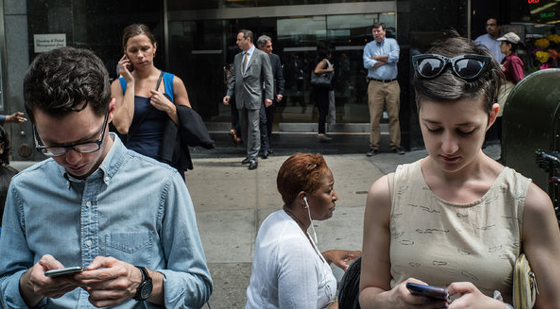 Photo Credit: The New York Times
"…the switch from the web to our phones is happening even faster than the transition away from physical media, and in many ways it is more profound."
–Farhad Manjoo, The New York Times, "For Verizon and AOL, Mobile Is a Magic Word", May 14, 2015
In a twist from the past, 2015 cellphone giant Verizon is buying 1990s "World Wide Web" America Online for $4.4 billion, in an additional sign that big telecoms don't want to be known simply as "dumb pipes" to customers.
Who knew that "You've Got Mail!" and a nearly 30-year-old dialup provider would still appeal? (Amazingly, AOL once purchased AOL-Time Warner for $162 billion during clownish times at the peak of the dotcom bubble in 2000, so the new $4.4 billion figure is trump change, but perhaps a more accurate figure.)
The reasons for acquiring AOL are all too clear: As Facebook and Google claims more than half of the $42 billion online ad marketplace, Verizon wants more mobile content and advertising, along with video ads tailored to users through demographics and data mining of cellphone customers.
AOL owns all brands of media, including the Huffington Post and game applications that produce mountains of personal data for advertising and message construction.
Our smartphone consumption, at its peak right now in terms of sales and usage, is more than three times higher than that our use of personal computers during its heyday.
"Mobile, mobile, mobile," is what the market is saying. As when television merged the technology of moving images and radio sound into relatively small boxes — called TVs — all things media are in constant states of flux. Continual digital media mergers, both of companies and of technologies, surely represent our constant, collective paths.
Singularity, anyone?
Greg Goaley, President of WinCommunications in Des Moines, Iowa, is a former copywriter and creative editor, and a 25-year digital content strategist and provider. Kathryn Towner is President of WinM@il USA, a former 15-year sales rep for Random House/McGraw-Hill, and a 20-year permission-based email publications consultant and provider.