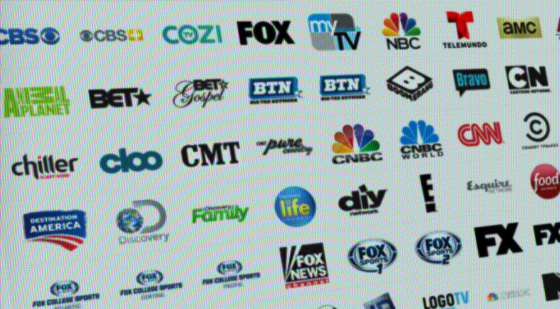 While it's hard to tell the difference anymore with media evolving all over the place, giant telecoms — with likely all of them jumping into the Internet bundle market to compete with the digital programming successes of HBO and Netflix — are beating up dinosaur cable companies so badly that many of the latter will do practically anything any more to stop customers from jumping ship.
Cable originally came to most of us during the mid-1980s and later. Cable broke the four- or five-channel model that most Americans watched practically since the early 1950s. We welcomed cable, which instead offered us 24-7 content with a lot of good and bad channels: the sports we liked (ESPN); the news machine we really liked and really hated (Rupert Murdoch's Fox News); the news we scoffed at and now feel sorry for (Ted Turner's CNN); at-times revolutionary but largely inane music videos (MTV); and specialty raunchy but wry content (David Chappelle and Comedy Central).
But over time, bad cable channels have greatly outnumbered the bad. Bruce Springsteen's 1992 dirge, "57 Channels And Nothing On", dates me — but well illustrates the point.
Most of the country's viewers are still comprised of people too lazy, too scared of change, too fearful that something will go wrong and waste time, or just plain too damn busy to switch away from a model that grants cable companies nearly regional monopoly status. These cable companies still earn astronomical profits as practical "cable annuities."
Count me among the sheeple still paying into the cable annuity monster. But I — along with millions of us, blessedly — am increasingly converting to the Internet bundle world of watch-as-you-want, when-you-want, at monthly rates sometimes considerably less than 10 percent of standard cable. Tens of millions now pull up "Game of Thrones" on HBO, along with "House of Cards" and the enchanting "Peaky Blinders" BBC series on Netflix, whenever they want.
Many have labeled the shift away from cable to Internet program bundles as "cord cutting." Some lament the dizzying array of program offerings, among them the great Tim Wu in "The Dreaded Bundle Comes to Internet TV", from the May 3, 2015, New Yorker.
Also comes The Wall Street Journal's Eric Pfanner, who writes "Sony Joins Crowd of Online TV Providers," about Sony PlayStation's Vue service, and many other Internet services taking shape.
Greg Goaley, President of WinCommunications in Des Moines, Iowa, is a former copywriter and creative editor, and a 25-year digital content strategist and provider. Kathryn Towner is President of WinM@il USA, a former 15-year sales rep for Random House/McGraw-Hill, and a 20-year permission-based email publications consultant and provider.